Workshop expertise for demanding targets
Our workshops in Laukaa, Joensuu and Mäntyharju serve our customers by manufacturing individual or serial products for the needs of the energy and process industries, as well as for individual goods production and machine shops.
Our workshop in Laukaa specializes in heat exchangers and other pressure vessels, workshop in Joensuu in demanding CNC machining and workshop in Mäntyharju in equipment construction. Myllykoski's most important areas of expertise are pipelines, steel structures and the manufacture of small pressure equipment.
Our workshop capacity also supports our lifecycle services and maintenance and installation projects.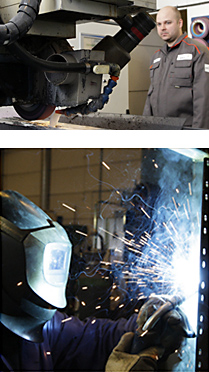 Milling equipment
Horizontal CNC machining center control
Mazarol Matrix Nexus 2
longitudinal movement X 1400 mm
transverse movement Y 1200 mm
vertical movement Z 1325 mm
spindle speed 16,000 rpm
Vertical CNC machining center control Fanuc 18i-MB
longitudinal movement X 2060 mm
transverse movement Y 1560 mm
vertical movement Z 780 mm
maximum workpiece weight 5000 kg
Vertical CNC machining center control Fanuc 18-M
longitudinal movement X 1940 mm
transverse movement Y 1200 mm
vertical movement Z 700 mm
Vertical CNC machining center control Fanuc 0-M
longitudinal movement X 1300 mm
transverse movement Y 610 mm
vertical movement Z 685 mm
Vertical CNC machining center control Fanuc 0-MD
longitudinal movement X 1020 mm
transverse movement Y 510 mm
vertical movement Z 510 mm
Turning equipment
CNC lathe control Fanuc 21i-TB
spindle drilling 75mm
with rotating tools
maximum turning diameter on the guides 495 mm
maximum turning diameter on the sled 350 mm
tip spacing 710 mm
LNS bar feeder
CNC lathe control Siemens
spindle drilling 105 mm
maximum turning diameter on the guides 630 mm
maximum turning diameter on the sled 370 mm
tip spacing 2980 mm
manual lathe drilling 51 mm
maximum turning diameter on the guides 575 mm
maximum turning diameter on the sled 300 mm
tip spacing 3000 mm
Grinding machines
CNC profile grinder longitudinal movement X 800 mm
transverse movement Y 400 mm
vertical movement Z 470 mm
CNC profile grinder longitudinal movement X 650 mm
transverse movement Y 300 mm
vertical movement Z 300 mm
Surface grinder longitudinal movement X 1600 mm
transverse movement Y 810 mm
vertical movement Z 510 mm
Surface grinder longitudinal movement X 700 mm
transverse movement 340
vertical movement 300
Welding equipment
4 MIG welding machines
1 TIG welding machine
Saws
automatic band saw
band saw
Sheet hall
width 20 m
height 48 m
area 960 m2
door opening 5 m x 6 m
overhead cranes 8.3 t and 5.0 t
jib crane 0.8 t
Machine tools
Broaching drill
horizontal movement of the table 1600 mm x 1400 mm
vertical movement 1250 mm
power 10 kW
largest piece 3000 kg
Milling machine
horizontal movement of the table 950 mm x 275 mm
vertical movement of the table 450 mm
power 10 kW
Radial drilling machine
max. drill size 50 mm
power 5.15 kW
Radial drilling machine
max. drill size 100 mm
power 12 kW
Tip lathe
diameter 1200 mm, tip spacing 1900 mm
Tip lathe
diameter 400 mm, tip spacing 1100 mm
Other machinery
Sheet cutter
S max. 10, working width 3000 mm
Processing table
max. piece 2500 kg and 300 kg
Rotating roller
Stamp press
hydraulic
F max. 320 t, working width 4200 mm
Sheet mangle
S max. 16, working width 3600 mm
Hydraulic press
F max. 120 t
workpiece height 1200 mm
width 1050 mm
Band saw
workpiece max. diameter 350 mm
Pipe bending machine
Pipe rolling machine
electronic control
torque detection
Powder arc welding machine
Stick welding machines
Tig and stick welding machines
Mig welding machines
Forklifts
Pipe rolling equipment
electronic control
torque detection
Pipe pullers
Pipe cutting equipment
Pipe lathes